Description
What's in OAKKART Bubble Pop Fidget Pack:
Fidgets toy 4 Pack set has Four Unique animal figure in 4 attractive color, Pink Unicorn, Green Dinosaur, Purple Butterfly, Red Crab.
Beautifully Designed Gift box that will "WOW" kids, it will make your family, friends feel happy.
Value for money Buy 4 pcs cheap fidget toys under 20 dollars
Benefits of Sensory Fidget Pop its Kit!
1. Antistress & Anxiety Reducing Toy – This bubble poppers fidget toy is a great sensory tool for someone stressed.
2. Pop-it sensory desk toy to reduce anxiety & ADHD can relieve stress help restore mood, Autistic sensory toys for restless Boys Girls help them stay focused, calm down or keep engaged for hours
3. Endless Fun with real cool gadget, push and pop the round bubbles, one side it will make louder Pop sound & other side slight popping sound, its pleasant sound will surely satisfy OCD children's adults.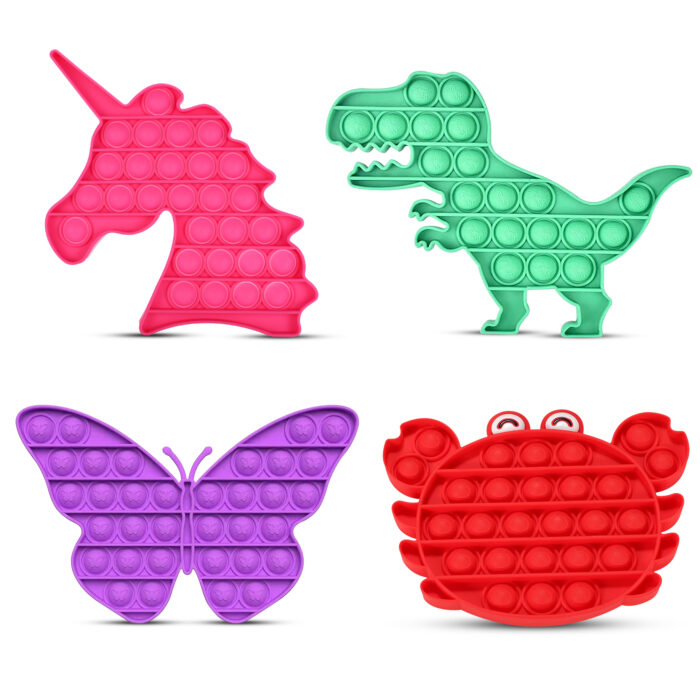 1. Easy to carry travel figit toy, Compact, durable, Squishy, it feels relax.
2. Play fidget poppers toy at home, Car, Airplane, classroom, parks, parties on all occasions.
3. Premium quality food grade silicone eco-friendly material, Non-toxic, tasteless, safe for kids.
4. Best selling Novelty Gifts for children's from 3 year, toddlers, teens, teenagers, father son daughter.
5. Gift on special days: 4 pieces Unique miniatures PopFidget Toy on Birthday,, Thanksgiving, Christmas.
6. Multipurpose must-haves tools for Special education school supplies, Montessori, preschool fidgit toys, teacher activity kits to calm students.
7. Multiple usages baby bath toy, therapy toys, coaster, frisbee, decompression for men women executives to relieve office stress.